Sanco Vertical Air Blower
Silent type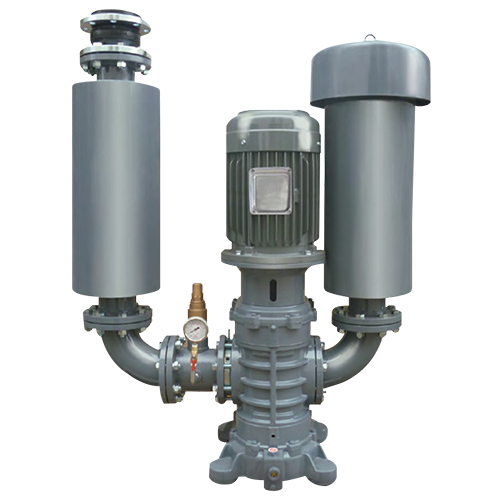 ENERGY SAVING, CARBON REDUCTION
HIGN EFFICIENCY AND SPACE SAVER
Sanco Vertical Air Blower SCD Series Silent Type
Bore Size: 40mm ~ 150mm (1.5″ ~ 6″)
Capacity: 0.4 ~ 22 m/min ( 24 ~1320 m/hr)
Pressure: 0~ 6000 mmAq (0~0.6 kgf/cm)
Tri-Lobe Roots Blower
Air cooled and circulated for whole blower.
Silent type which generates lower noise than standard root blower
 Extreme low vibration
Saving electricity
High efficiency
Vertical type designed saves space
Stable construction
Maintenance easily
Cleaner air with Oil free operation
Coupling driven without belt
Waste Water Treatment
Aquaculture
Electroplating Industry
Powder Conveyance
Grain Conveyance
Paper Production
Food Industry
Semiconductor Industry,
Chemical Industry…etc.
Especially suitable to install in Hospital
School
Hotel
ResidentialArea
Office Building where needed low noise.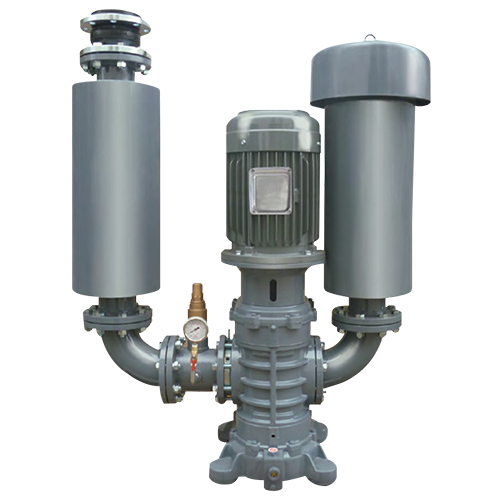 TABLE Suction Air & Discharge Pressure
Silent Roots Blower
50HZ-4P
Model
Motor
Bore
(mm)
Performance table Qs (m3/min) PRESSURE (mmH2O) La (Kw)
1000 (mmH2O)
2000 (mmH2O)
3000 (mmH2O)
4000 (mmH2O)
5000 (mmH2O)
6000 (mmH2O)
Qs
La
Qs
La
Qs
La
Qs
La
La
Qs
La
SCD40
1.5Kw.
40
1.18
0.72
0.96
1
0.79
1.28
-
-
-
-
-
2.2Kw.
40
1.18
0.72
0.96
1
0.79
1.28
0.65
1.58
0.53
0.41
2.11
SCD50
1.5Kw.
50
1.59
0.81
1.34
1.17
-
-
-
-
-
-
-
2.2Kw.
50
1.59
0.81
1.34
1.17
1.15
1.53
0.98
1.89
-
-
-
3.7Kw.
50
1.59
0.81
1.34
1.17
1.15
1.53
0.98
1.89
0.84
0.71
2.61
SCD65
2.2Kw.
65
2.17
0.94
1.82
1.43
1.56
1.92
-
-
-
-
-
3.7Kw.
65
2.17
0.94
1.82
1.43
1.56
1.92
1.34
2.41
1.14
0.97
3.39
SCD80
3.7Kw.
80
4.75
1.58
4.28
2.54
3.92
3.5
-
-
-
-
-
7.5Kw.
80
4.75
1.58
4.28
2.54
3.92
3.5
3.62
4.46
3.35
-
-
3.7Kw.
80
4.75
1.58
4.28
2.54
3.92
3.5
3.62
4.46
3.35
3.11
6.39
SCD100
7.5Kw.
100
5.9
1.82
5.32
3.01
-
-
-
-
-
-
-
7.5Kw.
100
5.9
1.82
5.32
3.01
4.88
4.21
4.5
5.4
-
-
-
15Kw.
100
5.9
1.82
5.32
3.01
4.88
4.21
4.5
5.4
4.17
-
-
SCD125
5.5Kw.
125
9.53
2.93
8.91
4.74
-
-
-
-
-
-
-
5.5Kw.
125
9.53
2.93
8.91
4.74
8.43
6.54
-
-
-
-
-
5.5Kw.
125
9.53
2.93
8.91
4.74
8.43
6.54
8.03
8.35
7.67
-
-
11Kw.
125
9.53
2.93
8.91
4.74
8.43
6.54
8.03
8.35
7.67
7.35
11.96
0.75kW=1HP, 1.5kW=2HP, 2.2kW=3HP, 3.7kW=5HP, 5.5kW=7.5HP, 7.5kW=10HP
11kW=15HP, 15kW=20HP, 18.5kW=25HP, 22kW=30HP, 30kW=40HP, 37kW=50HP
STRUCTURE & MATERIAL LIST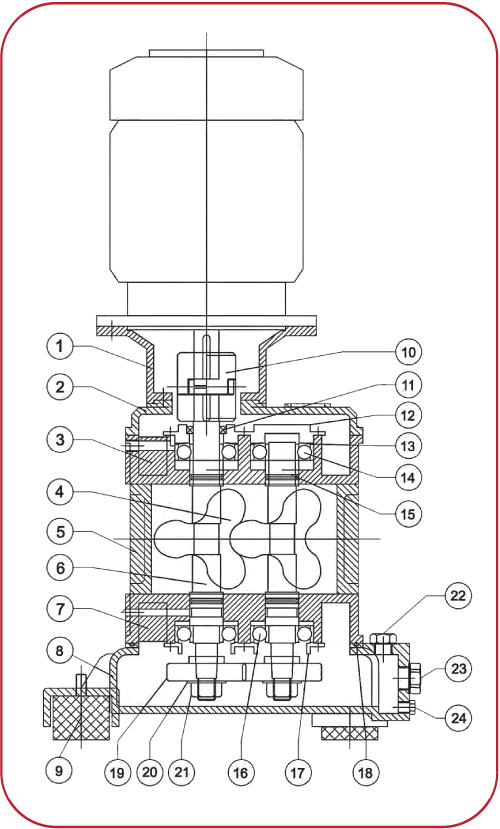 | No. | Name | Material |
| --- | --- | --- |
| 1 | MOTER CASE | FC250 |
| 2 | OIL TANK | FC250 |
| 3 | SIDE COVER | FC250 |
| 4 | ROTAR | FC250 |
| 5 | MAIN BODY | FC250 |
| 6 | SHAFT | SCM440 |
| 7 | SIDE COVER | FC250 |
| 8 | OIL TANK | FC250 |
| 9 | ABSORBER | NBR |
| 10 | COUPLING | FC200 |
| 11 | OIL SEAL | NBR |
| 12 | BEARING COVER | S45C |
| 13 | DISE SPRING | SS400 |
| 14 | BEARING | SUJ2 |
| 15 | LABYRINTH SEAL | S45C |
| 16 | BEARING | SUJ2 |
| 17 | BEARING COVER | S45C |
| 18 | O RING | NBR |
| 19 | GEAR | SCM415 |
| 20 | WASHER | S45C |
| 21 | NUT | S45C |
| 22 | OIL PLUG | S45C |
| 23 | OIL GAUGE | S45C |
| 24 | OIL DRAIN | S45C |
Kgf/cm2
kPa
mbar
psi
mmAq
mmH2O
Torr
mmHg
1
98.0665
980.665
14.2231
10,000
735.559
0.010197
1
10
0.145
101.9716
7.50062
0.001019
0.1
1
0.0145
10.19716
0.750062
0.07031
6.895
68.95
1
703.08
51.7157
0.0001
0.009806
0.098
0.001422
1
0.073556
0.00136
0.13332
1.33321
0.019336
13.5951
1
| CMM (m3/min) | CFM (ft3/min) | LPM (I/min) |
| --- | --- | --- |
| 1 | 35.32 | 1000 |
| 0.0283 | 1 | 28.3125 |
| 0.001 | 0.0353 | 1 |
| kW | HP | PS |
| --- | --- | --- |
| 1 | 1.3404 | 1.3596 |
| 0.746 | 1 | 1.0143 |
| 0.7355 | 0.5859 | 1 |