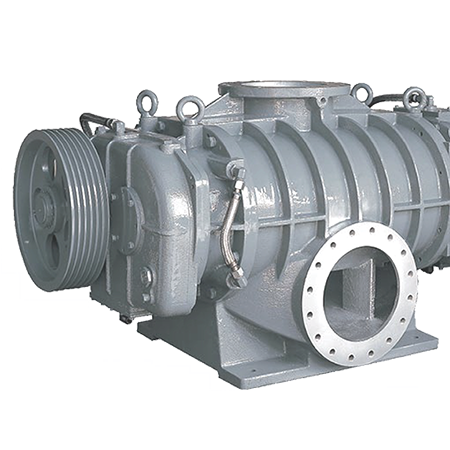 It is generally recognized that air blowers product hight operation noise due to impact and pulsation when it sucks and discharges air in a gust. The Sanco model SCB Series and SCBV Series rotary blower incorporates a 3-lobe spur type rotor. that greatly lowers noise by a structure that continuously conveys air. Another characteristic of the 3-lobe rotor is that reduces torque fluctuation and stabilizes flow volume.
        All air blowers are built and checked annually following the strictes adhesion to ISO 9001 and CE quality standards, involving the use of our highly precise and regularly maintained CNC machinery. Scrupulous attention is paid to every detail, in a specialized field where technical errors should be kept to a bare minimum.
Aeration in sewage or industrial wastewater treatment plants
For air-lift pumps in sewage or industrial wastewater treatment plants
Oxygen supply at aquariums and fish frams
Pneumatic conveyer
MAJOR STANDARD SPECIFICATION
Blower
Fluid
Type of Fluid Temperature
Air 0-40 'C
Components
Rotor Shaft Seal Bearing
3-lobe Spur type Labyrinth Ball or Roller Bearings
Materials
Rotor Casing Shaft Gear
Gray Iron Casting Gray Iron Casting Carbon Steel Chromium Molybdenum Steel
Type
Air Cooled Package
1,000 to 8,000 mmAq pressure requirement
Water Cooled Package
8,000 to 10,000 mmAq pressure requirement "Please contact your local dealer for more information and model.
Motor
Type No. of poles Voltage
Indoor-use, drip-proof type 4-pole 3-phase.220,380,400 415,440 460 volt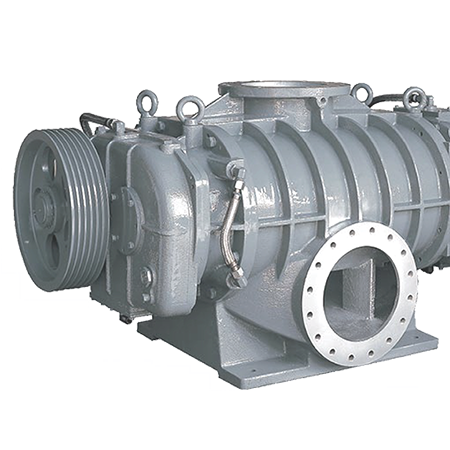 Common Base
Indoor use Drip-proof Motor
Suction Silencer
Discharge Silencer
V-Belt and Belt Cover
Relief Valve
Pressure Gauge
Check Valve
"T" Joint
Foundation Bolts
Expansion Joint
Gate Valve
Acoustic-Hood
Vibration-Isolation Base with
Rubber Feet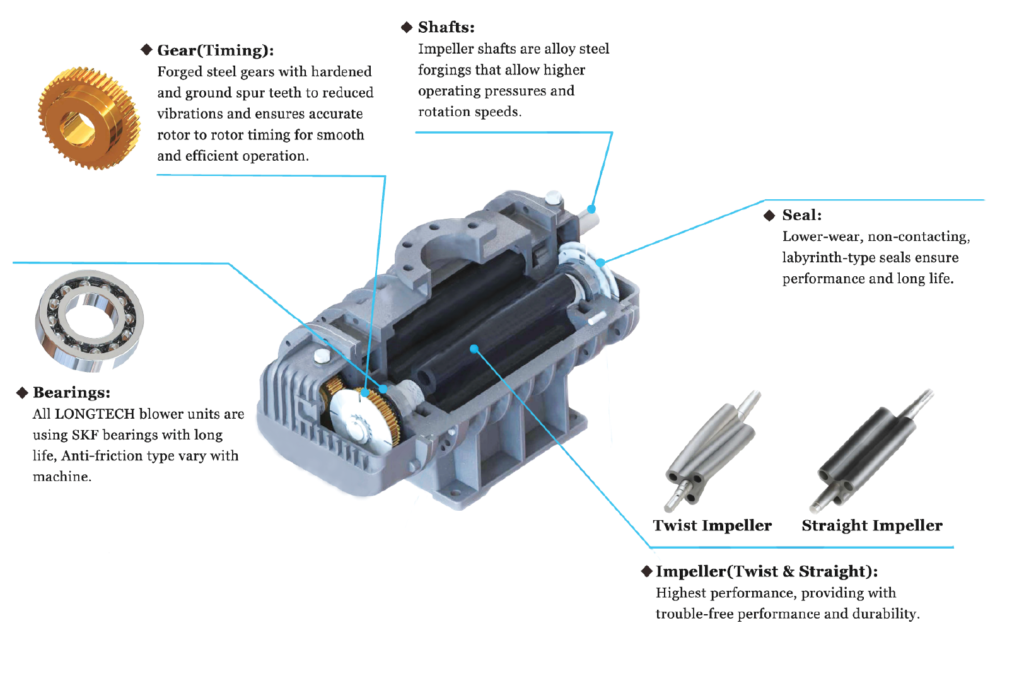 Other application will not showing out. Please contact with authorized local dealer or sales representative.

STRUCTURE & MATERIAL LIST
| NO. | NAME | MATERIAL |
| --- | --- | --- |
| 1 | Shaft | SCM440 |
| 2 | Side cover | FC250 |
| 3 | Labyrinth | SS400 |
| 4 | Seal case | FC250 |
| 5 | Oil case | FC250 |
| 6 | Main casing | FC250 |
| 7 | Spur gear | SNCM21 |
| 8 | Rotor | FC250 |
| 9 | Bearing | SUJ2 |
| 10 | Washer | SS400 |
| 11 | Nut | SS400 |
| 12 | Oil spiash | SS400 |
| 13 | Oil plug | S45C |
| 14 | Oil drain | S45C |
| 15 | Seal | NBR |
| 16 | Screw | SS400 |
| 17 | Pulley | FC250 |
| 18 | Oil gauge | S45C |
| 19 | Grease Fittings | SA5C |